I own a few shirts that are too low cut that I only wear with a pin or tank. The pins ruin my tops and tanks can get a little bulky. I wanted to try doing some layering without the bulky tank underneath or leaving pin holes in my shirts. When I saw cami secrets, I thought it was an awesome idea! I just had to have more options though, so I gave it a shot. Using stuff I already owned, I got to work. You know free is so me!!
fabric and lace
cut to size
fabric glue to save time
velcro to hold in place around the straps
all done with no bulk!!
then I went for another color with ribbon trim...
DIY shirt
and a more chic look...

The best part about this was of course it was free!! Plus you can play with the design with prints, trim and colors to suit your closet. I love the fact that you can use any old fabric. The second one was made using an old sleeve from a top I refashioned. The third was made using a top that was torn.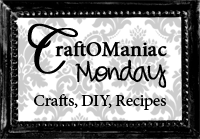 Kindly Bookmark this Post using your Favorite Bookmarking Service.